Document Storage in Albuquerque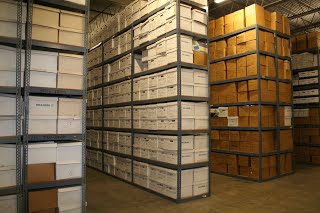 Offering a great way to create additional space in an office, records storage services from Albuquerque Document Scanning allow businesses to hold onto documents they don't use frequently but need to keep for retention or other security purposes. All files can still be accessed at any time, and there are even emergency retrieval services for those unexpected situations.
When looking for an offsite records storage provider, look for the following amenities:
Simplicity & Cost Savings
Are you using expensive office space to maintain records and information? Albuquerque Document Scanning will help you free up valuable office space and enhance the productivity of the employees who maintain your documents.
Access Control
It is crucial to keep your files in the proper hands. Have your files locked down, ensuring that only the right employees have access to them.
Climate Maintained Records Storage
Get humidity and temperature controlled storage for all types of records, including paper, film, x-rays, microfilm, discs, and magnetic tapes. Storage facilities have a backup power source, ensuring proper temperature and humidity levels even during a power outage.
Legal Compliance
Many businesses keep large amounts of records. Then there are the businesses that neglect to keep the required documents. Both may be acting in error.
Document retention policies, paired with document storage programs, can help you decide which files to retain, and for how long, as well as deciding how to dispose of records after they are no longer needed.
Disaster Protection & Planning
Major catastrophes can destroy years of important business documents. Albuquerque Document Scanning can prevent the destruction of your mission-critical records by getting a secure storage facility.
Get Free Quotes on Secure Records Storage Services in Albuquerque
Albuquerque Document Scanning provides secure document storage and document retrieval services for businesses anywhere in Washington State. To get free, no-obligation quotes on long-term document storage, give us a call at (505) 288-3511 or fill out the form to the left today!